For years, the premise behind the idea of reducing your company's energy use has been simple and easily appreciated: If you use less, you pay less. Now, however, that equation is being expanded in meaningful ways. First, with programs that pay companies for using less during times of peak grid loads (demand response). And second, with emerging tools, knowledge and technologies that can lead to even greater levels of energy reductions – in ways that minimize the disruption on day-to-day operations.
As energy experts like those from NRG work with energy users from businesses of all types, the "use less" mantra becomes more sophisticated and impactful. The benefits of tapping into experienced resources cannot be understated. They can customize a higher-level solution to the business at hand. The result? Energy reduction becomes energy curtailment and achieving it involves tailored approaches that balance a company's energy needs and costs through demand response, energy storage, grid capacity – or, often, a blended solution.
Attaining energy curtailment allows companies to reduce electricity use voluntarily, especially when there may be demand challenges from the electric grid, such as those that lead to brownouts. Simply put, with energy curtailment practices, they can more efficiently manage the operational needs of their company and receive financial incentives for doing so.
How Can Energy Curtailment Efforts Help?
As demand response programs take hold, measurement is a key driver. Like anything in business, what gets measured becomes the catalyst for what gets done. NRG works with companies in monitoring and managing energy surges, reducing costs and energy use, and pinpointing capacity or reserve issues. The U.S. Department of Energy notes that by 2025, the industrial sector's energy consumption will exceed 36 percent. However, it also notes that the sector can reduce energy consumption by 15 percent through energy efficiency efforts, including those put in place as part of a demand response program.
The barriers to adoption of these programs include lack of awareness of opportunities to increase energy efficiency and gaining access to the corresponding incentives. But there are ways to shift any corporate mindset. Being proactive and planning ahead is an important part of the energy curtailment approach, along with leaning on experts to put it all in place with an approach suited to each company's situation.
As the right idea becomes the right solution, the value of NRG's long-standing position in the energy industry can take hold in other ways, too. One emerging example is through a concept called asset-backed demand response. Here, in addition to leading customers to a use-less curtailment approach, the solution can also incorporate and install onsite energy-generating approaches like a backup generation system. This gives customers added control over their energy approach and, better yet, can often be partially or fully funded with demand response revenue. In other cases, the backup generation equipment can be owned, installed and maintained by NRG, allowing the customer to focus on their business needs, not their energy systems.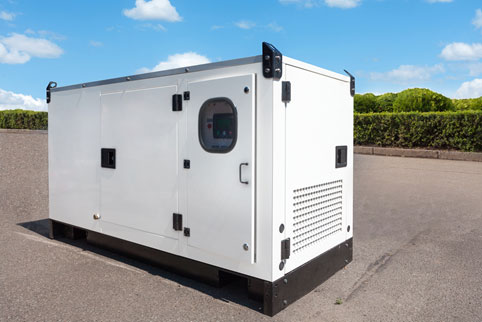 Keep in mind, for every big idea or activity, there are also smaller, everyday actions that can make helpful contributions to a company's bottom line. For example:
Check that generators are fully fueled and connected to load-focused activities.
Determine which equipment can be shut down for an hour or up to four hours when necessary.
Identify all areas where lighting can be safely reduced.
Plan ahead to take some elevators off duty during non-essential times.
Examine opportunities for running chillers at reduced capacity when possible and raise the thermostat a few degrees during events such as times when energy savings are needed most.
But wider monitoring, managing, and energy reductions take time and practice. And it is necessary to take a knowledge-based approach to understand energy usage to gain broader energy-saving solutions, something NRG is poised to deliver. After all, your company will need a robust system to bring all the moving parts of an energy reduction plan together and into fruition.
To learn more about NRG's advisory services and a curtailment solution for your business, visit: http://www.nrgadvisoryservices.com/